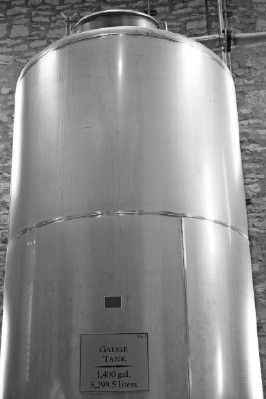 Allegro Process
Once the customer approves the results of the laboratory work, processing the distillate (aging) is simple. Minimum requirements include one or more stainless steel tanks sufficient to hold the final volume of spirits product, a separate stainless steel tank to hold the Allegro wood product, and the piping and pumps necessary to circulate the distillate through the system. Kairos will provide exemplary drawings and any appropriate support, but it is recommended that customers consult an engineer to design a system consistent with both the Allegro process requirements and the laws of the customer's location. The specific layout, like the system itself, is the customer's responsibility.
What about aging requirements?
Many countries require that spirits are barrel-aged for certain periods to meet labeling requirements. While Allegro can take distillate from the still to the bottle, it is not incompatible with barrel-aging, sequentially or concurrently. While this certainly limits some of the time-savings aspects, many of the other benefits of Allegro technology remain. We will be happy to discuss your specific requirements and limitations at any time.